January 13, 2021
Posted by:

Andi

Category:

Past Projects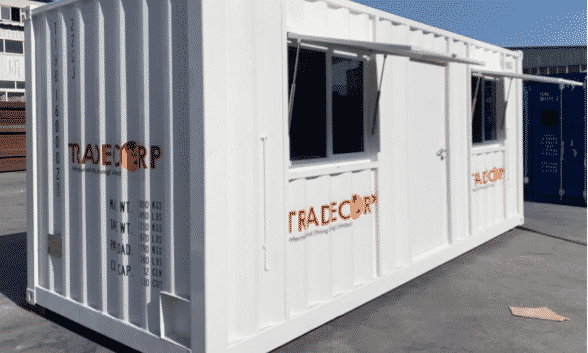 There has been a growing trend in using portacamp container as a building establishment option. More people and projects in Indonesia began to shift to this alternative due to their efficiency, portability, and durability. Therefore, Tradecorp would like to introduce you our new portacamps to fulfill these needs.
Things that you'll learn from this article are:
1. What is A Portacamp Container?
Portacamp container is a shipping container but serve beyond the use of standard shipping containers of moving or storing goods. To this date, it has been modified into office, cafe, and housing. Other than that, we also have done some other container modification works, for examples, generator unit, lavatory, cafetaria, canteen, and other basic life support units. The picture above shows our portacamp container office 20 feet in a simple yet effective design.
2. What are the Benefits?
Our Portacamp container offers numerous advantages:
First, you can customize the design to your liking.
Second, it is easy to move from one site to another.
Third, we equipt this product with the 'plug and play' power system so you can easily power any electrical items.
Fourth, takes only few days to build, much quicker when compared with conventional building methods.
Fifth, cost-effective as it is significantly cheaper to construct.
3. Why Buy from Tradecorp?
Tradecorp is one of the leading shipping container suppliers and manufacturers with a long experience. We sell, rent, and modify new and used shipping containers in various sizes and designs at a competitive price.
Our company also has a professional team that will gladly assist you in making your portacamp container wishes come to reality. Moreover, relating to the delivery of your products, we can help to arrange that for you. Tradecorp has a lot of experience including in transporting shipping container even to hardly accessible places like remote jungle areas. 
To provide better service for our client in Indonesia, we have two offices located in East Kalimantan and Jakarta. Please send us your inquiry, by clicking here, if you have any questions regarding our products.