Container Trucking for Rent in Indonesia
Looking for a reliable container trucking company can be difficult. With many years of experience handling shipping containers, Tradecorp can transport your shipping containers safely to their destination. With our well-maintained truck fleet, we can avoid things that cause delays or other problems in the delivery process. Which will cause huge losses.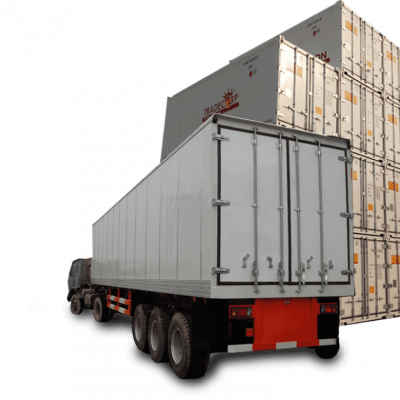 Uncertainty causes disruptions, realibity increases efficiency
Unreliable goods or cargo delivery services can be an obstacle to the distribution of your product, equipment, and supply. The most common problems in delivery are delay and cargo damage. These problems happen because you choose the wrong container trucking service. Your company needs a reliable alternative so that your business distribution process can be more effective and efficient.
Relax, let our container delivery experts work for you
A Trustworthy container trucking company is essential to make sure the distribution of supply and products running smoothly. It is very important to keep your supply chain undisturbed. Therefore, having a reliable container delivery partner will increase the efficiency of your business. Especially in choosing a container transport company.
Solution for your transportation needs
We provide a container trucking service that meets safety standards to make sure your goods safely arrive without harm. Additionally, your supply chain will be running well with a logistics partner who ensures an efficient delivery process. Your cargo comes in different shapes and sizes. Therefore, we are here to provide container trucking that is suitable for 20ft and 40ft standard containers. Our team of experts is always ready to accommodate your special requests.
Our transport and delivery services strong points are:
✓ We do routine inspections on our container trucks to ensure the safe delivery of your cargo
✓ Our container trucks are compatible with both 20 feet and 40 feet standard containers
✓ We have dedicated customer service in case of any issues or last-minute changes in the container transport process.
✓ The highest security standards are in place to ensure cargo safety.
Cakupan wilayah sewa truk Tradecorp:
Distributing goods by truck is the most effective option for short and medium distances, such as between cities or regions. Tradecorp provides container trucking services for Greater Jakarta (Jabodetabek) area. Since it is a domestic delivery, your container does not need to have a CSC plate. Schedule a booking and we will ship them for you. You can always contact us. We are ready to answer any questions you have.